Our thoughtful, well-executed maintenance provides reliability, detail, artistry and safety. Using all of our own equipment and a professional staff . will maintain your residential or commercial property to the highest standard.
Turf-grass maintenance Fertilizer and chemical application Site revitalization Calibrated irrigation.
Pest & weed control Hardscape maintenance & repair.
Our landscape maintenance
services include:
Mowing
Line Trimming & Edging
Hedge Shaping & Pruning
Bush Hog services
Leaf removal and vegetation hauling
Irrigation Maintenance & Service
Certified (IPM) Pest Control/Disease Control
Soil Analysis & Fertilization
Weed identification & Control
Landscape Lighting Maintenance & Repair
Ongoing tree care inspections for monitoring, maintenance and mitigation
Removal and replacement of trees
Tree trimming, corrective pruning, crown reduction, artistic shaping,
Tree cabling and bracing
Landscape & Lawn Fertilization Services
Our licensed certified professional inspects your landscape to recommend the most effective fertilization plan for your particular landscape conditions. We customize the fertilization to your soil type, species of lawn and shrubs, time of year, weather, and the amount of sunlight/shade that your property gets throughout the year. Soil testing can be performed for pH, lime requirement, nitrogen, phosphorus, potassium, and magnesium. We select the blend of professional-grade fertilizers and formulas most appropriate for your landscaping needs, choosing among organic, inorganic, quick release, slow release or controlled release. We then fertilize when it is most effective – when your plants need it and can readily take it up.
We evaluate your plants' current conditions to decide on their nutritional needs:
Landscape & Lawn Fertilization Services
Age of grass, shrubs and trees (younger growth requires more fertilization).
Grass and plant leaf color and size
Premature leaf drop
Branch and overall plant growth
Newly planted sod versus established lawn
Pre and post plantings
Nutritional needs of trees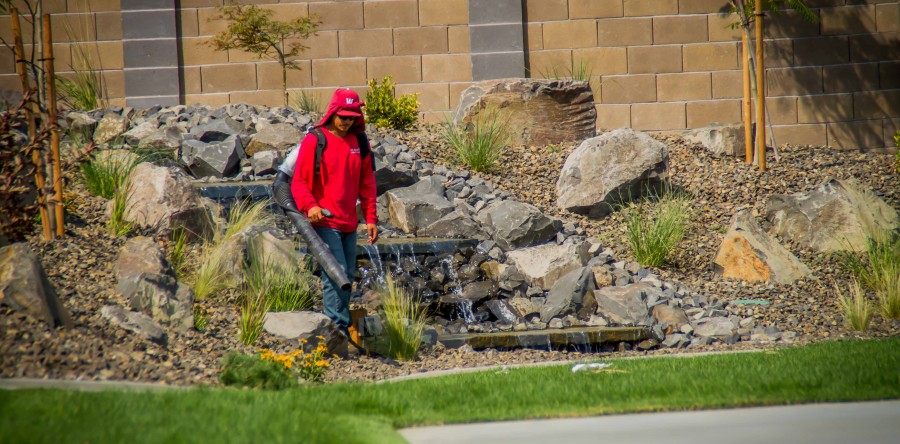 Skilled, Uniformed Employees
Landscape designers and maintenance teams
Full-time office staff to handle your requests rapidly
All supervisors are equipped with PDAs for instant communications, emails, and data on jobs
English-speaking foremen and supervisors always on every project
State-licensed technician performs monthly inspection of your property to monitor and administer treatment for the control of pests, fungus, and diseases
Continual staff training on best advanced techniques and proper maintenance services
Weekly safety trainings
Zero drug tolerance
Huesitos Landscaping takes pride in the quality and beauty of the landscapes we have installed and maintained for our commercial and residential clients throughout Eastern Washington. . We have the resources and the power to get things done fast and on-time, no matter how large or small. We stand behind our work to ensure our customers' long-term satisfaction.
Huesitos Landscaping & maintenance services are fully customized to meet your lawn care needs. View our landscape installation and maintenance services that we offer to commercial and residential clients throughout Eastern Washington